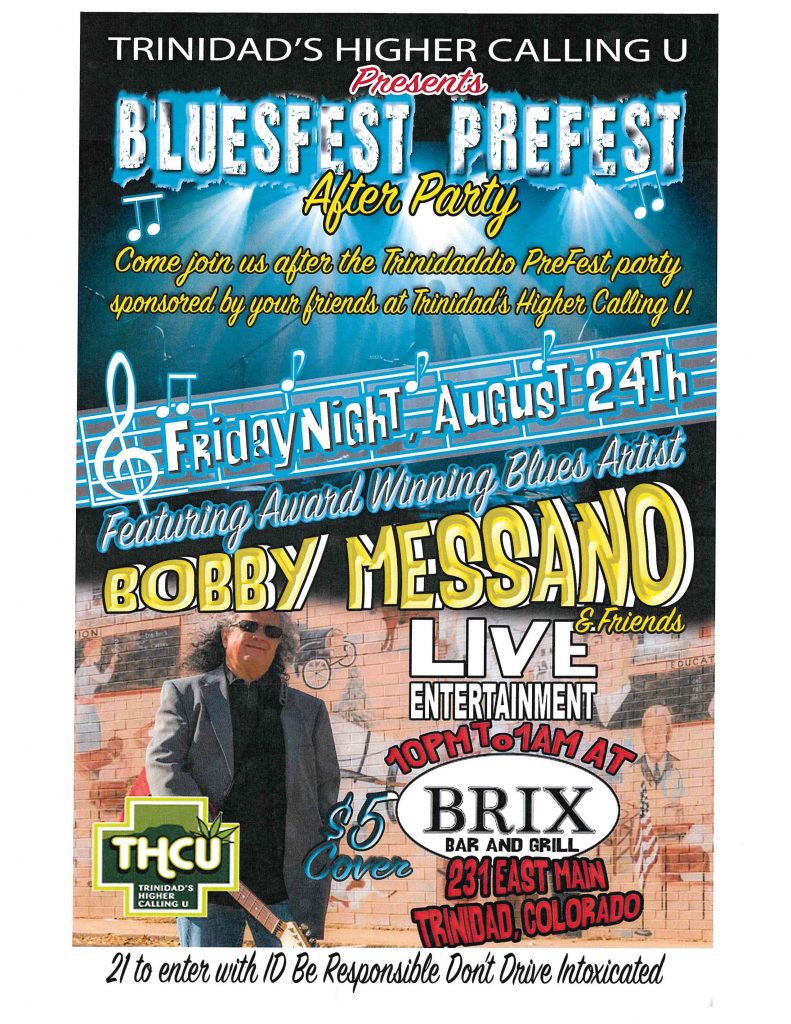 Legendary Contemporary Blues Artist Bobby Messano to Play BRIX after the Trinidaddio PRE-FEST Concert on Main St., Friday, August 24.
Trinidad, CO – Trinidad's Higher Calling U, is proud to present Legendary Contemporary Blues Artist Bobby Messano & Friends at BRIX Sports Bar after the Trinidaddio Bluesfest Pre-Fest Concert on Main St., Friday, August 24 from 10:00 PM to 1:00 AM, the cover is $5.00.
During Bobby's career, he has garnered 23 First Round Grammy Ballots, released six CDs, composed songs in TV and cable shows and played on over 50 major label and indie albums. He has been heard on everything from MTV to Benny Mardones' hit "Into The Night."
The celebrated guitarist has played on records by Clarence Clemmons, Franke & The Knockouts, Joe Lynn Turner and STARZ, and produced the 60's hit act, "THE SHADOWS OF KNIGHT." Live, Bobby has played guitar and been the Musical Director for Steve Winwood, Lou Gramm, and Country artists Jimmy Wayne,
Rodney Atkins and Steve Holy.
Bobby has headlined BAMFEST, The Charleston Blues Festival, Smokin' In Steel, Summerfest, Charlotte Speed Street, Blues Brews & BBQ, Blues at The Beach, Bayfront Blues Festival, Deltaville Seafood Festival, Willow River Blues Fest, Ambassador Blues Fest, Colonial Beach Blues Festival, and Southern Maryland Blues Festival.
His last four CD's ("Holdin' Ground," "Bobby Messano Live in Madison," "That's Why I Don't Sing the Blues" and "Welcome to Deltaville") have garnered 19 Grammy 1st Round ballots and airplay on over 275 blues shows. "That's Why I Don't Sing the Blues" was on the American Blues Scene's Blues Top 5 Chart for 24 weeks and named 2012 TOP BLUES/ROCK ALBUM (USA) by Blues Underground Network.
Between 2012 and 2014, Bobby played 350 shows in 27 states to over a half-million people. In 2012, Bobby was inducted into the "BLUES HALL OF FAME." Bobby's new CD, "LOVE & MONEY," was released in April, 2015 on Connor Ray Records and debuted on the Billboard Blues Chart at #7. It stayed there for another five weeks, peaking at #1. "Love & Money" was also nominated for a Blues Blast Magazine Award for Rock-Blues Album of the Year.
For Questions about the Bobby Messano show, call Kimberly Schultz at 719-859-1008, the venue;
BRIX is located at 231 E. Main St and Trinidad's Higher Calling U is located at 1000 Independence Rd.  Bobby_Messano_flyerBF_2018